In the ever-changing digital landscape, search engine optimization (SEO) has become paramount for businesses to achieve online success and drive organic traffic. To secure higher search engine rankings in 2023, it is vital to stay updated on the latest SEO practices. This extensive guide presents key strategies and techniques to help you optimize your website effectively, improve visibility and maximize search engine rankings.
1. Conducting Keyword Research and Analysis
One of the most commonly asked questions is, "How can I rank my business at the top of a Google search?" While there is no magic trick to achieve instant success, it is possible to position your website for success with the right tools and information. Similar to small crawling robots in sci-fi movies, Google's algorithms scan and index websites to identify relevant content. Websites with helpful, specific and easily accessible information tend to rank higher, especially within their respective industries.
For instance, if you own a small landscaping business, focusing on providing informative content related to landscaping is crucial. The more information you can provide, including relevant keywords that potential customers may search for on Google, the better. Strategic placement of this information throughout your website, including titles, body content, links and images, further enhances its visibility. Suppose your landscaping company specializes in residential lawn services. In that case, incorporating searchable keywords that homeowners might use when seeking lawn care services will significantly improve your chances of appearing in relevant search results.
Implementing this concept is relatively straightforward. Start by creating a list of important keywords related to your business, products or industry. Put yourself in your customers' shoes and consider how they would search for services or information related to your offerings. Once you have your keyword list, determine which pages on your website should feature each keyword. For instance, your homepage, where visitors arrive by searching for your business, should contain the most crucial and relevant keyword. Similarly, allocate specific keywords to individual pages dedicated to your services or products, ensuring the keyword usage appears naturally and adds value to the content.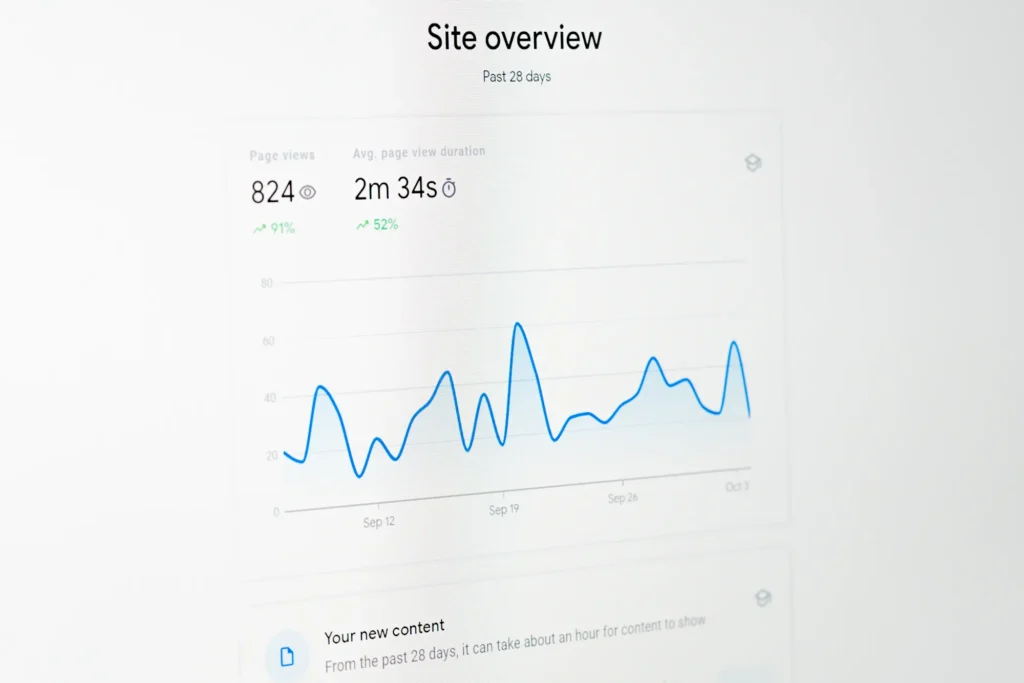 2. Harness the Power of Google Business Profile
Optimizing your website for search results extends beyond on-page content. Creating a free Google Business Profile account provides an additional opportunity to boost your visibility. If you've ever conducted a Google search and noticed business information displayed within the map or right column, including the business name, contact details, website, and reviews, you've encountered a Google Business Profile. These profiles are integrated into Google's systems and can significantly improve your ranking. To set up your Google Business Profile, follow this link.
Google Business Profile also allows you to collect customer reviews, which further strengthens your online presence. Positive reviews not only help with ranking but also establish credibility and encourage potential customers to engage with your business. Emphasize the importance of leaving feedback to satisfied customers and build a repository of positive experiences.
3. Benefit from Backlinking Strategies
Backlinking, or the process of obtaining links to your website from external sources, is another powerful technique for growing your online presence. Simple actions like including a link to your website on your social media profiles or getting news publications to feature your business and link to your website can significantly boost your visibility. The possibilities for backlinking are endless.
Start by optimizing your social media profiles and creating accounts on platforms like YouTube. If you're part of specific industry organizations or online communities, you can often create profiles and posts that include links to your website. This free marketing tactic requires minimal time and effort but yields substantial benefits.
Additionally, consider listing your business on various platforms such as Yelp, Angie's List, Yellow Pages, LinkedIn and Facebook. These listings not only provide exposure but also serve as valuable backlinks that contribute to your website's authority and credibility.
4. Leverage Fresh and Engaging Content
Google favors websites that regularly produce new and updated content. Incorporating a blog or news section on your website is an excellent strategy to optimize for search engines. These sections allow you to include industry-specific keywords, address relevant topics, and provide valuable information that users are likely to search for online. Modern technologies, such as AI-powered tools, make blog writing more accessible, helping you generate search engine-optimized articles tailored to your specific needs. However, ensure the content remains unique, specific to your business and industry, and caters to your target audience. Google employs algorithms that evaluate content for usefulness, readability, and relevance.
5. Maximize SEO with the Layerly SEO Add-On
To further enhance your website's optimization, consider using the Layerly SEO add-on. By partnering with your account manager, you can determine top-performing keywords related to your business and implement them effectively throughout your website. The SEO add-on streamlines keyword optimization, generates descriptive titles and taglines for Google search results, and provides unique and optimized descriptions that appear below your website's link in search results. Additionally, the Layerly SEO add-on seamlessly connects your website to Google Search Console, ensuring prompt indexing and visibility for your website.
If your website includes blog posts, news updates, service categories or product listings, the SEO add-on can also create sitemaps for each section, making it easier for Google to crawl and index your pages for search results.
6. Track and Analyze Performance with Google Analytics
Monitoring your website's performance is essential to gauge its success and make informed decisions. Creating a free Google Analytics account allows you to track website visitors, analyze user behavior, identify popular pages, measure click-through rates and gain valuable insights into visitor demographics. While analytics data can be overwhelming, seeking guidance from a knowledgeable professional who can interpret the numbers and metrics in the context of your business is invaluable. Connect with a Layerly website expert to assess your website's performance and gain actionable insights.
Wrapping it up
Remember, optimizing your website and content for search engines is an ongoing effort that must adapt to ever-evolving technology and SEO requirements. As Google continues to introduce new algorithms and optimization standards, it's crucial to keep your website up to date. Invest in the Layerly SEO add-on today to ensure your website remains optimized, easily discoverable by your target audience and delivers the best possible results for your business.